Cape RADD
South Africa's shoreline is absolutely bursting with marine life in massive variety, and Cape RADDoffers visitors the opportunity to explore this life and learn more about it with their bespoke courses. Based in Simon's Town, just outside Cape Town, Cape RADD offers both SCUBA and free-dive training courses to showcase the marine environment and biodiversity. Alternatively, participants can explore the shallower waters while snorkelling.
More than this, though, these courses are designed to allow their participants to be first-hand contributors to the marine databases and to work alongside the Cape RADD marine biologists.
The trips start with a brief presentation where the local biodiversity and ecosystems are discussed. Participants will also be given some skills to identify some of the more common fish species that are likely to be spotted during their dive. Each dive or snorkelling excursion lasts for about an hour, giving you the chance to see the largest variety of marine fauna and flora, and to take some awesome underwater shots.
Afterwards, divers will get to compare what they saw, record their sightings, and chat about what they may mean in terms of the research being conducted here. All of the equipment is provided, including fish identification books or guides. The entire experience lasts about 3.5 hours, making for a fabulous morning or afternoon out.
Participants wanting to snorkel do not need any training, but need to be proficient swimmers and fairly comfortable in the water. But, SCUBA divers need to have at least an Open Water Diving qualification. Those who don't, but would like to learn, can enquire about the PADI dive qualification courses, which can be organised through Cape RADD. You can also visit their website at Cape RADD for more information and to view all activities on offer.
Simon's Town is known for its naval base and the rich history that characterises it. It is a fascinating little spot to explore, as are its waters.
Boat Cruise off Simon's Bay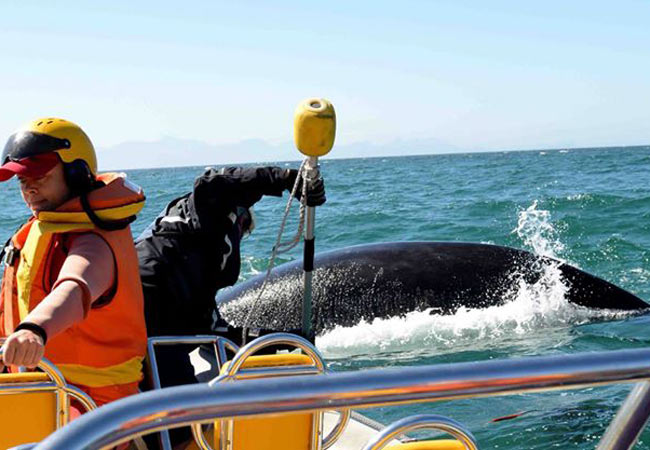 Join us aboard the Spirit of Just Nuisance as we take a slow cruise around Simon's Bay to enjoy all the historic sites and splendid scenery that Simon's Town has to offer.
Our expert guide will talk you through its rich maritime heritage, spanning both the Dutch and British occupations. Hear the story of Able Seaman Just Nuisance, the much loved Great Dane who befriended the Royal Navy sailors stationed at Simon's Town during the Second World War.
Simon's Town is also the main base for the South African Navy with its recently acquired modern fleet in clear view. If you're lucky you may even see a Frigate or Strike-Craft leaving the harbour.
Along the way we're sure to encounter birdlife, seals and on occasions even whales. This cruise is equally enjoyable for locals and tourists alike and a great education for children.
WHERE?Simon's Town Boat Company, Town Pier, Wharf Street, Simon's Town.
WHEN?Please contact us for departure time. We operate daily.
HOW?Call +27 (0)83 257-7760
Boulders Beach
Enjoy a day lazing at Boulders Beach and see the world famous penguin colony. Take a dip in the warmer waters of the Indian Ocean and find yourself swimming with the Penguins. Just remember this area is a sanctuary for them and they and their environment should be treated with respect.
Boulders Beach is home to the African penguin, which has been hanging out along the South African coast for years, in more recent times living shoulder to knee-cap with the local human population of Simon's Town. Named "jackass" after their distinctive Eeyore impersonations, they occur in only 27 other sites, including Robben Island, and despite their large numbers at Boulder's (some 3000), they are very much endangered …
Breakfast at The Meeting Place
Situated in Simon's Town, The Meeting Place is a popular restaurant with comfortable couches centred around an old fashioned cast iron fireplace, with plenty of interesting reading material at your disposal.
The outside balcony furnished with attractive garden-style tables and chairs, is warm and sheltered in winter and cool and inviting in summer, and offers splendid views of the False Bay coastline as well as the harbour across the street.
Sit indoors or on the balcony overlooking the yacht club and False Bay, and enjoy the finest breakfast or lunch in the area – seven days a week.
Cape Peninsular Loop
The one great payoff, besides the incredible all-round sea views, of having a peninsular in the city of Cape Town is the non-stop drive on which you can embark, and which has to include some of the most epic views in the country, and arguably in the world. If you are a visitor to Cape Town, the best way to do this is to hire a car in Cape Town's city bowl.
The Cape Peninsular is bounded by both the Atlantic and Indian Ocean, in the form of False Bay. A drive along the Atlantic Seaboard, starting in Sea Point and heading out to Hout Bay, via Llandudno beach, is a pre-requisite anyway, of any visitor to the Mother City. Make sure that you stop for fish and chips in Hout Bay and then push on along Chapman's Peak, a spectacular drive, on to Kommetjie, Scarborough and Cape Point nature reserve, where you can spend more than a few hours.
Tea in Simon's Town is a must, followed by a swim at Fish Hoek, one of the best swimming beaches in Cape Town (but keep an eye on the shark flags before heading into the water – there are scouts up above the bay to keep watch). Head into Kalk Bay for late afternoon browsing of antique and book shops, and either sup here, or back in the centre of Cape Town.
You can also choose to do the loop in reverse, for a different take entirely, beginning in Constantia and taking in the Constantia Wine Route, followed by a swim at Muizenberg, tea in Simon's Town, a quick look-in at Boulders Beach to swim with penguins and then onto the Cape of Good Hope Nature Reserve where you can catch a funicular all the way to the crest of the peninsular.
From here you can take the coastal road through pretty Scarborough and continue on until you reach Kommetjie. Drive through the little seaside village, past Masiphumelele and left, past Sun Valley, where you look out for signs to Chapman's Peak. Drive this through to Hout Bay and sundowners, after which you can drive along the Atlantic Seaboard back to Cape Town, via Llandudno and Camps Bay.
Enjoy a cold one at Dixies Pub
Dixies pub and restaurant has been an institution with locals, families, tourists, fishermen, bikers and appreciators of wholesome and hearty meals for decades.
With an endless view over the ocean, unpretentious yet delicious food and a jovial atmosphere constantly pouring out of the adjoining small pub, Dixies is a wonderful way to round off another perfect day spent in Glencairn, Simonstown.
Explore Simons Town
Situated on the Eastern side of the Cape Peninsula, and named after Simon van der Stel, the town was proclaimed as a safe winter harbour in 1741 and then grew rapidly when it became a Royal Navy base.
There is much to see in Simon's Town; a visit to Admiralty house which was originally a private home and dates back to 1814 is well worth it. The town has fabulous museums; the Simon's Town Museum and the South African Naval Museum displays models of ships and related maritime events. The Heritage Museum shows aspects of the Muslim community – and don't forget to visit the beautiful mosque.
Finish off with a visit to the statue of Able Seaman Just Nuisance, RN. This Great Dane was a resident of the town and a firm favourite of the sailors. A request to have the dog enlisted into the Royal Navy was sent to the British parliament … and hence the legend of Able Seaman Just Nuisance was born.
Simon's Town is a village rich in history and character – definitely well worth a visit.
Farmers Cliffs Trail
Start: Smitswinkel Viewpoint parking area
Finish: Buffels Bay beach
Duration: 8 km one way (leave another car at Buffals Bay beach)
Fitness: a fairly easy hike
Our tip: get there early! (best to enter the reserve when it opens – 7am)
Map: best done with the latest Peter Slingsby Cape Point (and Simon's Town) map
To find Smitswinkel Viewpoint follow the main road roughly a kilometre from the main entrance to Cape Point Nature Reserve until you see a gravel parking area on your left on the curve of the road as it swings right towards Buffels Bay.
From the parking area there are excellent views over the little enclave of Smitswinkelbaai.
Continue on to Buffelsbaai (Buffalo Bay) beach to leave a car there, and then return to Smitswinkel Viewpoint with the second car. Buffalo Bay beach is a beautiful beach, but extremely popular during summer.
The stony path that leaves the view point is easy to follow and heads south towards Cape Point. The joy of this hike is that you are below the road and have access to scenery not possible from a car in the reserve.
The path heads up Judas Peak and then on to Die Boer, wending its way around the slopes of Paulsberg (the highest of Cape Point's peaks) before finally climbing Kanonkop (and yes, there is a canon atop the hill that used to let Simon's Town know of approaching ships).
From the top of Kanonkop are incredible views down over Buffelsbaai and Cape Point – taking a good camera along is imperative. The trail slowly heads down to sea level along a gully, reaching the sea at Booi se Skerm (there is a parking area here too, where you could alternatively leave a car).
From Booi se Skerm the views of Paul's Rock and the coastline are superlative, and provide aspects of the coast seldom photographed. The scenery is beautiful, barren and devoid of human activity. Only the odd Chacma baboon's call to disturb the quiet.
From Booi se Skerm follow the tarred road south looking out for an old lime kiln on your right. The path hugs the edge of the beach easily reaching Bordjiesdrif's tidal pool and picnic area, where you could spend a while. Just around the headland is Buffels Bay beach. To reach it entails a bit of boulder hopping (look out for the Diaz and Da Gama monuments).
Buffalo Bay is picturesque, has its own tidal pool and ablution block, braai areas and shower, and the beach is swimmable.
Fishermans Beach
You will find the sandy shores of Fishermans Beach between the Simon's Town Golf Course and the very well known Boulder's Beach, which is home to many penguins and is extrememly popular with locals and tourists. If you'd prefer something a little quieter than Boulders, head down to Fishermans Beach.
Fishermans beach is enclosed by green lawns which are great if you'd like to play some games with friends, or if you prefer the sound of the ocean but the feel of grass instead of sand you can enjoy the best of both worlds here.
The water is slightly warmer than its opposing Atlantic Ocean beaches and this allows for a wide variety of water sports. Paddle out into the shallow waters and glide back in on a body board or explore the further reaches of the ocean on a kayak.
Glencairn Beach
If you're heading out to Simons Town on the train why not stop off at Glencairn and spend a few hours at the beach? This fantastic little spot is popular with locals who enjoy taking their dogs for walks or basking in the sun for the afternoon.
If you prefer driving to the beach you'll be happy to know that there is plenty of parking close by, however you will need to walk across the railway line, so take extra care when crossing.
Glencairn beach is also a great spot for whale watching in season and the resident shark spotters keep visitors up to date with the activity in the water. Enjoy a long stroll on the beach or simply enjoy the serenity the beach offers. Children will enjoy their time here to when they investigate the living creatures in the shallow tidal pool.
Heather Auer Art & Sculpture Gallery
The Heather Auer Art & Sculpture Gallery, established in 1998, is a charming gallery at the Simonstown Waterfront and stocked with orginal art by South African artists.
This beautifully positioned gallery represents a large body of Heather Auer's paintings and bronzes as well as a selection of work by other top established South African artists and a colourful collection of Township Art by a variety of local artists.
Heather has exhibited widely in South Africa and recently in London, UK. Her sculptures and paintings are in private collections worldwide. Her figurative work is her passion, endeavoring to capture on canvas or in bronze, the spirit of her subject, mainly women of Africa. Heather has been working as a professional artist and sculptor since 1989 and her paintings are now also represented at Neville Fine Art, UK.
Hoerikwaggo Hike
Start: Cape Town
Finish: Cape Point
Duration: 87.9 km, 5 days
Fitness: difficult
Our tip: you can opt for shorter Hoerikwaggo trails if the full 5-day adventure is too long or heavy going
This organised, slackpack hike leaves Cape Town to head up Table Mountain along its many footpaths in the company of qualified mountain guides. All of the tented camps were built exclusively for the Hoerikwaggo trail, with an emphasis on 'touching the earth lightly'.
DAY ONE:
Cape Town to Orange Kloof Forest – 18.4 km (roughly 8 hours) – head up Platteklip Gorge to the upper cable station. Then make your way across to the coastal town of Hout Bay, overnighting in the tented camp of Orange Kloof, built using alien wood.
DAY TWO:
Orange Kloof forest to Silvermine – 17.5 km (roughly 7 hours) – traverse the Constantiaberg and Vlakkeberg with views out over the Cape Peninsula, arriving at the Silvermine Tented Camp overlooking False Bay.
DAY THREE:
Silvermine to Kommetjie – 18 km (roughly 8 hours) – a hike up Chapmans Peak then heads down to Noordhoek beach, which connects to Kommetjie.
DAY FOUR:
Kommetjie to Simonstown – 17 km (roughly 7 hours) – head to the Old Wireless Station and hike up Slngkop via Grootkoop, arriving at Signal School and Simonstown in the afternoon. Overnight in the naval village of Simonstown.
DAY FIVE:
Simonstown to Cape Point – 17 km (roughly 7 hours) – drive to the Cape of Good Hope Nature Reserve entrance gate from which you hike all the way to Cape Point, passing beaches like bordjiesdrif, Buffels bay and Rooikrans.
You are driven back to Cape Town.
Just Nuisance
Just Nuisance was a likable resident in Simons Town and a statue of him stands in Jubilee square in his memory. After birth he was sold to a man who ran the United Services Institute in Simons Town. Most of his customers were Royal Navy sailors and all dog lovers. Just Nuisance would follow his sailor buddies around the base and dockyard and even on board to the gang plank of HMS Neptune, which was his favourite spot.
After the railway authorities complained about the dog travelling on the train with the seamen when they were on shore leave, the seamen decided to promote Just Nuisance and officially make him an 'Ordinary Seaman' – paperwork was signed by his paw. He was then entitled by navy law to all the same benefits as the sailors, including free train travel. Sadly after a car accident, Just Nuisance got Thrombosis which slowly paralyzed him.
It was decided to put him down so that he did not suffer. He was a huge part of many of the sailor's lives and is memory will always live on. Visit his statue, learn more about him and see the local museums for more stories and collections of his possessions.
Penguin Sea Kayak Trip
The African Penguin colony that inhabits the beaches and unique rock formations of the Western Cape coastline continues to lure tourists from all over the world to learn more about these marine birds and their delightful antics.
Kayaking these waters is a fantastic way to see the penguins (as well as many other marine species) without imposing on their territory or disturbing them from their natural behaviour. This means getting up close to them at a comfortable pace, and really experiencing the intricacies of their behaviour.
Paddling with the experienced guide in the secure, stable kayaks enables visitors to learn about the local ecology, tourist attractions and wildlife while enjoying the fresh sea air and the magnificent views of the land. To see the penguins, the trip leaves from the Simons Town Jetty and takes visitors past the Naval Harbour (which is, in itself, an impressive sight). Then, paddlers will go on to Boulders Beach, where the local colony of penguins can be seen in abundance.
Along the way, paddlers are sure to spot the Cape Fur Seal playing in the water or warming up in the sun.
Visitors are encouraged to take a dip in the waters, and snorkelling masks are provided in the summertime. Of course, time and weather conditions do influence the possibility of swimming and diving.
The double kayaks are stable, and paddlers require no previous experience.
Red Hill Footpath Hiking Trail
The Redhill Footpath Hiking Trail is a scenic trail in Scarborough, the small village that has almost become incorporated under the larger umbrella of Cape Town. The entire area is known for its quiet serenity and scenic beauty. This hiking trail begins in the Scarborough Conservation Village and then extends past Kleinplaas Dam and Slangkop to end at Blue Water Estate in Imhoff.
Permits are required for this hike, and can be obtained at Mickey's Mousetrap in Scarborough itself. It is a trail requiring a moderate degree of fitness, and takes about five hours to complete. Therefore, it is not suitable for young children, the elderly or those that are physically compromised.
Roman Rock Lighthouse
Much like the primary residence of A-list celebrities, the Roman Rock Lighthouse has an adjoining feature of distinction; a private helipad. The only lighthouse in South Africa to be erected on a single rock in the middle of the ocean; helicopters ferried supplies to this nautical guardian when it underwent extensive cosmetic surgery (yet another mark of fame) in 1992.
From the shore the size of the supply helicopter appeared to be the same size as this little lighthouse which hovers on the False Bay horizon.
Standing seventeen metres above the high water mark, this circular cast iron tower is painted white and set against an azure sky. South Africa's sole rock lighthouse exposes its natural stone foundation at low tide where it stands at the ocean entrance of Simon's Town Harbour.
South Africa's historic naval town owes the expensive erection of this lighthouse to Joseph Nourse Commodore of the Royal Navy. Hand penned letters from Commodore to the Secretary General of Admiralty in London, stressed the urgency of protecting Her Majesty's ships who dropped anchor in Simon's Town bay at night. After much deliberation over the lighthouse location the Roman Rock site declared victory. This lighthouse erection site was invisible, submerged at high tide and as a result took four years (1857 to 1861) to complete with gale-force winds and high sea-levels making construction impossible for three weeks of every month. The prefabricated tower was sent from England and shone it first light on the 16th of September 1861.
Originally lighthouse keepers and their assistant lived here in isolation surround by the rising water mark and inhospitable South Easter winds. Fully automated in 1919, acetylene gas flashes visible from thirteen nautical miles out to sea now brightens the Cape sky once every six seconds with a power of 5000 CD, to guide South African naval boats home. Watch the 'swimming' lighthouse shine from a safe spot on the shore.
Salty Sea Dog Restaurant
Simonstown has a lot to offer from stunning scenery, quirky shops, the naval museum and best of all it has the Salty Sea Dog Restaurant. If you love sea food then you will really appreciate this hot spot that is well known for its outstanding fish 'n' chips.
Originally a fish market built in 1925, this fabulous restaurant offers exquisite views over the harbour and is a great place to sit in and enjoy freshly prepared calamari, prawns, squid or catch of the day.
If you would rather eat in the comfort of your own home then why not take advantage of their take-away service. The staff are friendly, service is excellent and locals flock here for a feast, so don't hesitate, get down to the Salty Sea Dog for a meal to remember.
Scenic Charter Cruise to Seal Island
On this charter, we follow the shoreline to Seal Island, passing Glencairn, The Clan Stuart shipwreck, Fish Hoek, onto the bohemian village of Kalk Bay which still has a traditional fishing harbour and then to Muizenberg.
Seal Island has approximately 75 000 Cape Fur seals, a variety of bird life and of course the Great White shark. In winter, these sharks are very active and one can view the natural predation from the surface, which is a unique encounter very seldom experienced.
From Seal Island, we head to Boulders Beach, home to the famous large colony of endangered African Penguins.
This cruise is approximately 2 ½ hours. This charter can be combined with our Cape Point Cruise, lasting approximately 4 ½ to 5 hours.
Scratch Patch at Simons Town
Southern Africa is often considered the "gemstone capital of the world" as almost half of the world's gemstones are found in this part of the world. For this reason, experiencing the amazing beauty and variety of gemstones is a must for visitors to Cape Town. One of the most popular and convenient places to see and buy gemstones in Cape Town – and see an amazing variety of gemstone products – is at The Scratch Patch and Mineral World outlet at Simon's Town. (Also see the Scratch Patch at the V&A Waterfront).
Our original – and now world-famous – Scratch Patch was started in Simon's Town in 1970. Here you can have lots of fun "scratching" for your favourite tumble-polished gemstones from thousands of polished stones that quite literally cover the floor. There are a wide variety of tumble-polished gemstones in the Scratch Patch, mostly popular Southern African stones such as Tiger's Eye, Rose Quartz, Amethyst, Jasper, Agates and Crystals. If you're lucky, you might find virtually anything including Lapis Lazuli, Blue Lace Agate and some really exotic stones.
You can purchase a small plastic bag or container ranging in price from R17 for a small bag to R95 for a larger container. What stones you put in your bag or container is up to you!
Seaforth Beach
Seaforth is the 'freebie' version of Boulders beach – more than a few of the penguins venture across here from Boulders Beach, particularly early morning and evening. It lies closer to Fish Hoek than Boulders, and has only Waters Edge beach between it and the former.
Seaforth is a beautiful beach, set in amongst a series of boulders and with a serious parking area, where a few traders sell their wares, and there is a restaurant. But it's a fairly popular beach too, particularly during summer, because it's a great swimming beach for children, so families head down here to camp out for much of the day.
The grassy slopes that overlook the beach are, understandably, the first spots to go because they're so great for picnicking; some of them under trees. Get there early.
Seaforth Restaurant
Set on the white sands of Seaforth Beach in Simon's Town, with stunning views of mountains and sea, and penguins to entertain you, Seaforth Restaurant is a spectacular venue on the water's edge. Seaforth offers you the opportunity to delight in the fruits of the sea, or a range of platters fit for the most discerning palate.
The restaurant was designed to maximize the unique position on the edge of the water, providing each patron with a stunning view. The layout of the facility consists of general seating, the gunroom enclosed deck area and an outside deck area just metres above the sea at high tide, the perfect place for a meal or a sundowner cocktail, which the restaurant is renowned for.
Self Drive the Cape Peninsula
Self Drive the Cape Peninsula – two oceans in one day and one of the most beautiful drives, and easiest way to truly orientate yourself to the mountain range and two oceans that dominate Cape Town.
Route: Cape Town, Fish Hoek, Simon's Town, Cape Point, Chapman's Peak, Clifton
Length: 160 km
Time: in a day
Overnight: our favourite villages – Scarborough, Kommetjie, Hout Bay or Simon's Town
Cape Town to Kalk Bay 
Take the N2 from Cape Town's city centre and, as you hit hospital bend, move into a right-hand lane so that you can take the M3 to Muizenberg. Pass Mostert's Mill on your left, and the university on the slopes of Devil's Peak on your right. Rhodes Memorial's exit is roughly 1.5 km past Mostert's Mill on your left.
From Rhodes Memorial return to the M3 and continue towards Muizenberg. The M3 ends in a t-junction at Westlake. Take a left on the M42 until you reach Main Road (M4), where you take a right. About 600 metres later, turn right off Main Road up Boyes Drive. The views from up here are beautiful, and if there are whales in the bay (August through November) this is a good way to spot them.
Drive on (but be careful of the speed trap in the dip as you head to Kalk Bay) until the road descends in a left curve, past Theresa's restaurant (on your right) and Olympia Bakery (to your right just beyond the parking area at the set of lights; definitely worth a pit stop!).
Kalk Bay is to the left of the lights. If you can find parking (difficult at the best of times) take a leisurely stroll along Main Road and explore the antique shops, clothing boutiques, restaurants and book stores.
Kalk Bay to Boulders Beach
Head on towards Cape Point past Kalk Bay harbour, around the headland and into Fish Hoek. At the traffic circle, at the end of Fish Hoek, turn left and park where you can. Jager's Walk is a lovely path along the rocks from Fish Hoek to Sunny Cove, and takes around 40 minutes.
Head back to the circle and take a left, in the direction of Glencairn. A little further on is Simon's Town where there is plenty to do.
Not long after you leave Simon's Town, take a left into Bellevue Road (it is the second penguins sign post, not the first, which takes you to Seaforth beach). Park in the parking area at the bottom of the road to visit Boulders Beach. During summer and over weekends this is a popular beach. Try to get there early.
Boulders to Cape Point
After your swim head back to the M4, the coastal road. At Smitswinkel Bay the road begins to climb the mountain and turns inland. Your first left is the entrance to the Cape of Good Hope Nature Reserve (there is an entrance fee). There are various hikes, beaches and picnic areas as well as a restaurant. And you might want to follow everyone else to the very tip of the peninsula.
Cape Point to Hout Bay
Leave Cape Point, and take a left back onto the Plateau Road. At the Cape Farmhouse, there is a left turn into Red Hill Road. Drive into the little village of Scarborough and on through Misty Cliffs to Kommetjie . This is a beautiful part of the drive, to the more remote villages of Cape Town.
At the intersection with the M6, take a left and then left again onto Noordhoek Main Road, following signs to Chapmans Peak, past the Noordhoek Farm Village. Enjoy some of the most magnificent views of the Atlantic and Hout Bay.
At the bottom of the drive, head into Hout Bay, turning left into Princess Street and then right into Victoria Avenue, to head up Suikerbossie Hill.
Hout Bay to Cape Town
Victoria Avenue climbs the side of Little Lion's Head over Hout Bay Nek. This coast road, particularly at sundown, is indescribably beautiful. Follow the road past Llandudno, beneath the Twelve Apostles, through Bakoven, Camps Bay and Clifton, stopping where and when you want to.
Simon's Town Heritage Museum
A visit to the Heritage Museum in Simon's Town will give you an understanding of the rich Cape Malay cultural influence and history of the region. From 1743 there was an influx of people of Dutch Batavian descent into area due to Simon's Town becoming an anchorage for the Dutch East India Company.
The museum is housed in the Amlay house which was the origin home of the Amlay family, who were forcibly removed in 1975 after Simon's Town was declared a whites-only area under apartheid law. More than 7000 people from the region were removed from their homes following the Group Areas Act during the aparthied era. After the advent of democracy, the Amlay family returned to Simon's Town, and family member Zainab Davidson established the museum and curates its exhibitions today.
Visitors can expect to learn more about the early residents of Simon's Town and Cape Malay heritage and the intricacies of Muslim culture. Ceremonial artefacts, photographs and displays give you an insight into their religion and traditions. If you are interested there are also several walking tours on offer from the museum.
Smitswinkel Bay Beach
The Smitswinkel Bay Beach can be found, although not that easily as it isn't very easy to access, just past Simons Town and next to the Cape Point Nature Reserve. You will only get to the beach on foot, so this is not suitable if you're not fit as the walk is at least 15 minutes long.
The effort however, is well worth it! Because it is secluded this means it is quieter than many of the other Cape Town beaches and you'll enjoy a peaceful day at the beach, should you choose. Take in the magnificent views of both the bay and the mountain. If you prefer to be a little more active on your beach day get involved in some of the activity as this bay is popular for diving, fishing and snorkeling. But remember since you're walking to the beach you'll need to carry all of your own gear!
The water is relatively gentle here so perfect for a mid afternoon dip to cool down. But please be aware that there are no lifeguards on duty here, so you will need to be extra careful when in the water.
Sophea Gallery
Sophea Gallery and Tibetan Teahouse is set in a beautiful old ivy covered house in Simons Town overlooking False Bay of the Western Cape, South Africa.
Sophea Gallery specialises in Spiritual Art. To ensure that the exhibition remains interesting and dynamic, the gallery runs its exhibitions according to a specific theme which changes every three months. The theme serves both as an inspiration and a creative challenge for artists to prepare specific works. In some instances they already have existing works that fit in with the specified theme. We may also at times feature the works of a specific artist in the main gallery.
The second component of Sophea Gallery is a Shop or artefact and craft section. Sourced from all over the world, from as far afield as the Himalayan regions of Tibet, Nepal, Kashmir and Bhutan with their rich and ancient handicraft traditions, to our own local South African arts and crafts. Items include singing bowls, prayer flags, silver jewellery, ceramics and rich textiles.
South African Naval Museum
Come and enjoy the maritime magnificence at the South African Naval Museum in Simons Town. Take a tour of the floating museum, enjoy the experience of a lifetime and discover how submariners live and work in these close quarters.
The SAS Assegaai submarine was attained in France in the 1970's and was a Daphne' Class submarine which was decommissioned in 2003 and became the star attraction of the South African Naval Museum. The land based museum has outstanding displays exhibiting weapons, charts, medals, uniforms, naval equipment and photographs used throughout history by the Natal Volunteer Reserves, Cape Colony Reserves and in the South African Navy.
Expect to learn a lot, be fascinated and in awe of the battles faced, the victories won, the defeats endured and gain an insight into what navy life was and is like for the sailors serving the country.
The Black Marlin Restaurant
The Black Marlin, located in Simon's Town, has earned a reputation for it's stunning seafood, award winning wine list, attentive service and incredible views. This historical building, nce a whaling station, ensures the perfect setting for an idyllic lunch or evening experience.
The Black Marlin offers an extensive menu with the main emphasis on seafood, complimented by other choices of fine contemporary cuisine. House specialities include Cape Rock lobster, Seafood platter, oysters and mussels.
Tibetan Teahouse
Situated in Seaforth, a suburb of a Simon's Town on the Main road to Cape Point, the Tibetan Teahouse is only 500 m from Boulders Beach with its penguins and beautiful beaches.
The Tibetan Teahouse is the third component of Sophea Gallery. The teahouse leads onto a deep set and sheltered verandah and has fabulous views over False Bay, and is ideal for whale watching. The menu offers imaginative and tasty vegetarian and vegan food, styled on original Tibetan recipes, and is praised by vegans, vegetarians and non-vegetarians alike. In winter a cosy fireplace and a hearty plate of Sherpa Stew takes care of the cold.
All meals and cakes are made on the premises from the finest ingredients. Join us for a cup of our homemade spice Chai or butter tea served in a wooden cup.
Warrior Toy Museum
The Warrior Toy Museum has been operating for a number of years and when visiting you'll see a permanent display of model cars, dolls, dinky toys and more. The model car section houses 4000 cars and with over 500 dolls and teddy bears, you'll have plenty to ooh and aah over.
The curator, Percy van Zyl, has created a wonderful sanctuary for collectors of toy airplanes, trucks, lead soldiers, cars and busses. If you're interested in starting your own collection you'll be pleased to know there is a sales section for both existing collectors and budding collectors.
Other exciting things to see are the two fully operations railroads, Meccano, a variety of other toys and models, ships and even a lead soldier display. Come and step back into your childhood and explore the wonderful world of toys in Simons Town.
Waters Edge Beach
This off the beaten track beach is one of the local secrets. Head off in a southerly direction from Southforth beach, Simonstown (i.e. veer right when the grassy verge behind the restaurant is in front of you), and you'll find the path and sign for Water's Edge beach.
It involves entering via what looks like a garden gate, which makes it appear to be a private beach, which it isn't. The other way to reach it is along the sand and boulders via Seaforth. The beach may be regarded as part and parcel of Boulders beach but actually it lies between Seaforth Beach and Boulders, and most people know nothing about it.
The bay here is a wonderful haven for children, particularly the rock pools filled with star fish. It makes for wonderful swimming and snorkeling, and diving off the boulders adds a thrill'. But shhh, don't tell anyone about it!
Whale Watching from Boulders to Smitswinkelbaai
Although Simon's Town is small in size, one of its biggest attractions still remains a trip to Boulders Beach. Boulders Beach is situated at the end of Simon's Town between Fish Hoek and Cape Point.
A small entrance fee helps towards the preservation of the penguins and as a result, you are able to come within hands reach of then (careful they do bite), and spend the day with them swimming and enjoying the sun.
Further down past Simon's Town is Smitswinkelbaai, and within it a small little beach. A popular attraction for snorkelling and diving this beach can only be accessed via foot and is totally secluded. Other than a handful of houses it is surrounded by the mountain that leads into Cape Point Nature Reserve, and for those on a quest to sight whales, hiking trails up the nature reserve will give you the best viewing point so have your binoculars ready!
Whale Watching on the False Bay Coast
Simon's Town Boat Company is the sole permit holder for boat based whale watching for the western half of False Bay – stretching from Strandfontein all the way to Cape Point.
This area is sheltered from the open ocean, surrounded by stunning views and provides an ideal winter home for the Southern Right Whales. They visit each year between June and November to mate, calve, or simply to get away from the icy Antarctic winter.
Interacting with these gigantic and magnificent mammals (the size of 12 elephants) alongside their boat is an experience that will stay with you for the rest of your life. Be ready to photograph one breaching or giving you a friendly wave with its tail. Sightings of Brydes whales, Humpback whales, Orcas and Dolphins are also common.
A Train Ride to Remember
Atlantic Rail offers you an exclusive trip back in time where you can enjoy a train ride around the peninsula in a steam locomotive that was built in 1949. Not only is the train old but the coaches are vintage and the wooden bodied interiors are from somewhere between 1922 and 1938.
This Class 24 train will take you on an amazing journey starting at Cape Town Train Lodge on Old Marine Drive. There is a comfy lounge and bar area on board to make your trip as enjoyable as possible.
Travel past Newlands cricket and rugby grounds then towards Muizenburg where the views of the waves smashing the rocks below are phenomenal. Looking out at sea you may be lucky enough to spot dolphins or whales depending on the season. The rocky mountains are a sight for sore eyes and the beaches along the way are stunning.
Choo choo through quirky Kalk Bay, around to Fish Hoek, past Glencairn and into Simons Townwhere you can get a sneak peak of the Naval Dockyard. Once here you can get off, explore Simons Towns fascinating shops, stop in at the museum, grab some lunch or laze on the beach before heading back to Cape Town.
Big Game Fishing
Big Blue Sport Fishing Charters, an owner operated business in the Cape Peninsula, offers its clients the ultimate experience in Big Game, Inshore Game and Bay fishing. We operate out of Simon's Town harbour in False Bay, which is a 45 minute drive from Cape Town.
The Cape waters offer some of the richest fishing grounds in the world with an abundance of pelagic fish. Seasonal catches of yellowfin tuna, longfin tuna, skipjack, katonkel, dorado, yellowtail, cape snoek, kabeljou, cape salmon, reef fish, game shark such as the mako and blue shark, and the occasional marlin ensures that fishing is enjoyed all year round.
Our qualified and experienced skipper and crew will host your deep sea or bay fishing experience, catering to both seasoned anglers and novices. We use only the latest, top of the range fishing tackle and equipment for your maximum enjoyment and safety.
The vessel Big Blue is a 28 foot catamaran and is fitted with state- of- the art electronic equipment She is extremely stable and comfortable with a large cabin and a full walk around layout, providing a spacious deck for fishing.
A day out on Big Blue will be a fun filled, unforgettable day, whether you are fishing or just relaxing with a tailor made scenic tour.
Cape Camino Hike
The Cape Camino, like its counterpart in Spain, is a walking pilgrimage route around the Cape Peninsula. It is a way to explore this magnificent city and surrounds on foot instead of through the windscreen of a car, and allows one to really get to know Cape Town.
To join the pilgrimage and design your route you have two options: You can sign up on the website as a pilgrim (it's a once-off payment of R380) to receive an infinity passport, which gives you access to the route and maps, information on the sacred sites, discounts and value-adds from service providers and participation in the growing Cape Camino community.
Which gives you the flexibility of designing a route for yourself. Or, conversely, Cape Camino can organise the pilgrimage for you, sorting out all the logistics so that you're free to pilgrim.
CAMINO OPTIONS
• The half-day Mothers and Inmates package, 12 km
• The full day Wine to Water package, 17 km
• Two-day packages: including one night's accommodation, breakfast and dinner and Cape Camino t-shirts, and your infinity passport.
PACKAGE ONE:
Cape Buchu to Lady Lighthouse (Simon's Town to Hout Bay) is 36 km and preferable to pilgrims who like natural terrain, hills and beach. Sacred sites include Islam, Buddhist and Christian. Sleep in Scarborough.
PACKAGE TWO:
Lady Lighthouse to Atlantic Sunsets (Scarborough to Cape Town) is 46 km; ideal for those who enjoy beach walking, coastal views and the lively Atlantic seaboard strip. Sacred sites include Buddhist, Islam.
PACKAGE THREE:
Atlantic Sunsets to Mountain Shade (Hout Bay to Constantia Nek; sleep in the city) is 37 km and ideal for those who like to walk alongside the ocean, and explore the vibrancy of the Bo-Kaap and Table Mountain (contour path). Sacred sites include Islam and Catholic.
PACKAGE FOUR:
Mountain Shade to Wine to Water (Cape Town city to Muizenberg; sleep in Constantia) is 37 km and suitable for those who prefer a quieter walk along a gravel contour path, fields of vineyards and then the suburbs, ending at the seaside. Sacred sites en route are Catholic and Islam.
PACKAGE FIVE:
Wine to Water to Whales Tale (|Constantia to Simon's Town; sleep in Muizenberg) is 34 km and suitable for those pilgrims who enjoy suburban life, love the sound of the sea at night and are excited by exploring bushman caves and artefacts. Sacred sites en route are Catholic, Islam, Jewish and Khoisan.
Crayfish Charter
This is seasonal charter available during the summer months between November and April. The Cape Crayfish or Rock Lobster is a world sought after delicacy and plentiful in our coastal waters.
We drop our baited rings nets against the spectacular cliffs off Cape Point. Catching Crayfish is great fun and excitement for the whole family and you are welcome to take your catch home with you.
Cruise from Simons Town to Cape Point
On this charter, we follow the shoreline to Cape Point, where the Two Oceans mix. Here you can view the beautiful high cliffs and caves along this rugged coastline with the fynbos meandering along the hills of the Cape Point nature reserve. Ostriches, buck species and baboons are often seen foraging along the coast line.
We pass Buffels Bay and Smitswinkels Bay before stopping at Boulders Beach which is home to the famous large endangered African Penguin colony.
This cruise is approximately 2 ½ hours. This charter can be combined with our Seal Island Cruise, lasting approximately 4 ½ to 5 hours.
Deep Sea Game Fish & Tuna Charter
The Cape waters have a world wide reputation for tuna fishing. Yellowfin tuna of over a 100kgs are landed but the average size of the fish is 50kg to 80kg.
We depart from Simon's Town harbour and travel 12 nautical miles to Cape Point. From there we head out (up to 40 n.m) to the tuna grounds. We target Yellowfin tuna, one of the world's toughest, fighting fish and a smaller member of its family, the Longfin tuna. Very often Skipjack, Katonkel and Dorado (Dolphin-fish) are also landed.
Hooking up with one of the rulers of the blue world, the Mako or Blue shark gives a great fight, but these are caught on a strict catch & release basis only. Although not common, Marlin and Swordfish can be caught at certain times of the year. It is often possible to catch yellowtail or snoek closer to Cape Point when the conditions are favourable.
Game and Reef Fishing
This can be a very diverse and exciting fishing trip as there are many good reefs and fishing areas to choose from. We could head up to Cape Point where large shoals of Yellowtail and Snoek arrive annually. These esteemed game-fish are a fast and powerful predator and give an excellent fight.
During our crayfish season, we often drop ring-nets in the kelp beds off Cape Point to catch a few of these tasty delicacies for the pot. Alternatively, we head into False Bay towards Seal Island which is inhabited by thousands of Cape fur seals,in turn, attracting a large number of Great White sharks (a protected species) and one can often see these phenomenal apex predators clear the water while hunting their furry prey
On this charter, we also target Cape Salmon, Kabeljou, Katonkel, Skipjack tuna, Red Roman, Hottentot and various other species, including different types of sharks. (sharks are caught on a catch and release basis only)
Source: SAvenues.com