The world's biggest timed cycle race – the Cape Town Cycle Tour – turns 41 this year and is expected to be as big as ever. Last year, during the height of the water crisis, the Cycle Tour Trust bought two-million litres of water, which they put into the Cape Town municipal grid. But, the water crisis has subsided now, and they're back to doing what they do best … putting on the country's best cycle race, which attracts overwhelming support from the many spectators dotted along the tour's 109km route.
7 Places to watch the country's biggest cycling event and the date, route and entry info for those participating
Even if you're not riding the Cape Town Cycle Tour, it's still a very special event to be a part of, even as a supporter: It's the biggest cycling event in SA with 35000-plus riders taking on the 109km route starting in the Grand Parade precinct and finishing in Green Point. We have a list of spots along the route from where you can watch the cyclists  and some great things to do while you're there.
Or perhaps you're a cyclist and you haven't entered the race. No worries, we have the link to where you can enter on and even some info on how to you can still partake after entries have closed. Plus: How to bring your bike on a plane, if you're flying in for the Cycle Tour.

CAPE TOWN CYCLE TOUR 2019 DATE, TIMES AND ROUTE INFORMATION
The Cape Town Cycle Tour Road Race takes place on 10 March 2019. Last year, the start was moved from Hertzog Boulevard to the Grand Parade Precinct to avoid the wind complications that caused the cancellation of the 2017 race. Other than that, and reaching Nelson Mandela Boulevard earlier, the race follows the traditional route around the Cape Peninsula taking in the sights along Simonstown, Misty Cliffs, Noordhoek and of course Chapmans Peak.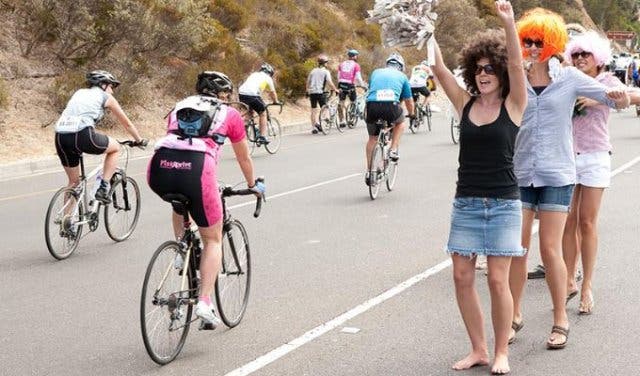 WHERE TO WATCH AND WHAT TO DO
The Cape Town Cycle Tour is regarded as one of the most beautiful races in the world. And you can be a part of it by hitting the roadside and cheering on the cyclists. Here's where you can watch the riders passing through and show some gees too.
Edinburgh Drive
Edinburgh Drive AKA Wynberg Hill is an early test of the riders' mettle because of its steep gradient. Your support will be most welcome, especially to those who at that point feel that they may not have trained enough for the race.
Getting There: It's a pretty long slog but you can catch a train to Plumstead and walk to the top. Alternatively, you can drive there and find roadside parking, or park in the parking lot opposite Victoria Hospital.
Glencairn Beach
This is a flatter part of the route where racers normally maintain a quick pace. Watch them zoom by and spur on those who may still be feeling flustered after Edinburgh Drive. If it's a scorcher out, you can head down over the train tracks to take a dip in the tidal pool.
Getting There: Road closures rule out using your car to get here. Instead, grab a train to Glencairn Station and make a day of it.
Simon's Town
It's a pretty hectic slog along this section and, depending on the time you're there, most riders will be going pretty slow, some may even be struggling. Help them along with words of encouragement and maybe even a cold Coke (although there is a water point in the vicinity). While you're there, why not set some time aside to explore Simonstown.
Getting There: As with Glencairn, driving here is out of the question, but a select amount of trains go all the way to Simonstown.
Noordhoek
With the biggest test lying just ahead (Chapman's Peak) every rider will be a little nervous heading through this section, especially beginners who have no idea what they're getting into. A little "you can do it" will go a long way to give them the vooma to take on the challenge. If you get tired of cheering the cyclists on why not head to  Noordhoek Farm Village which is home to the famous Cafe Roux.
Getting There: With no train station and no escape from road closures, this vantage point is best saved for those within walking distance of Noordhoek's main roadt.
Hout Bay
Tired, but relieved cyclists will be coming through the Hout Bay area after mastering the gruelling Chapman's Peak. The experienced ones will know what lies ahead, the inexperienced may only have heard the legends. Either way, while you're here why don't you head to Hout Bay Harbour for a walk-around the Bay Harbour Market.
Getting There: If you're a smart driver you can find and access a good viewing point with your car, especially if you live nearby.
Suikerbossie
This is what lies ahead of Hout Bay. It's neither steep nor long, but Suikerbossie has become a legend along this route because most riders are spent after what came before. Your support is probably most needed here. It's close to the final stretch, so a little reminder of this could provide some motivation. Getting There: Strictly for those who live close by.
Sea Point
The final stretch: it's fast and jubilant riders will be thinking about nothing more than the finish line. They may or may not need your support anymore, but it's satisfying to see them flying along after the long and hard is done and dusted. You can do this while having a drink and a bite to eat at Strolla Restaurant and Bar.

Getting There: Natives of Sea Point and surrounds have it easy. A smart driver will be able to avoid the road closures and get to Sea Point Beach Road although some walking will be required.

Source credit: www.capetownmagazine.com