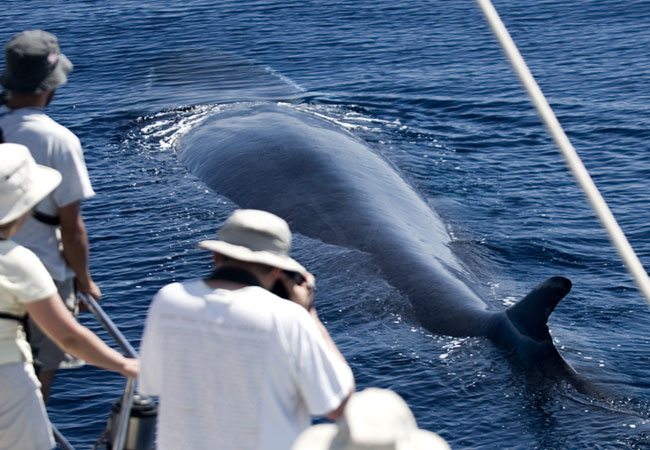 Nothing prepares you for your first whale and the impact that seeing it has upon you. Perhaps it is their immensity. Definitely it is the whales' authenticity and the absolute trust they show towards us. But mostly it is the overwhelming sense of awe, of joy, of having been touched by something greater than oneself that translates into 13 million people around the world enjoying organised whale watching annually.
WHALE WATCHING IS ONE OF THE WESTERN CAPE'S BIGGEST DRAW CARDS
For those of you who haven't yet sat in a boat, or stood on land, and marvelled as a whale the size of a jumbo jet rises out of the water just in front of you, or glides past and 'catches' your eye, then you have yet to become obsessed with watching these gentle giants.
For others, for whom a commune with the whales is an annual pilgrimage; an event that gains the kind of precedence bordering on compulsive, a visit with these mammals of the deep takes on an element of ritual and renewal. The experience of a whale's willingness to share themselves with humans, despite the atrocities we have and continue to employ against them, is humbling.
For an unforgettable experience we recommend Simon's Town Boat Company to take you on a magical journey and see not only Southern Right Whales up close, but so much more.
The western half of False Bay – stretching from Strandfontein all the way to Cape Point is one of the finest boat based whale watching sites in South Africa. This area is sheltered from the open ocean, surrounded by stunning views & provides an ideal winter home for the Southern Right Whales. They visit each year between June & November to mate, calve, or simply to get away from the icy Antarctic winter. Interacting with these gigantic & magnificent mammals (the size of 12 elephants) alongside our boat is an experience that will stay with you for the rest of your life. Be ready to photograph one breaching or giving you a friendly wave with its tail!
Sightings of Brydes whales, Humpback whales, Orcas and Dolphins are also common. 

Trips depart daily at 10:30 & 14:00. Booking is advisable!
T
his tour is operated from our marina by Ocean View Masiphumelele Fishing (PTY) Ltd. who is the sole permit holder for boat based whale watching in False Bay (Permit No. 0806336).
Visit their website, www.boatcompany.co.za, to make your online booking.
Credit: boatcompany.co.za & SAvenues.com