The Green Mountain Trail is a 4-day, luxury slackpacking experience around the Green Mountain (Groendlandberg) in the Overberg region of the Western Cape.
The Trail Experience
Different to the traditional multi-day hiking trail setup of one day following on the next, the Green Mountain Trail is made up of selected day hikes which showcase the varied landscapes of the Overberg.
The immense biodiversity of this area is generally lost on the uninformed, but our lead guide, Jeff Groenewald, was a walking encyclopaedia when it came to fynbos and the rich history of the Overberg region – from getting down low to investigate little wax twiners, to knowing where to find ancient stone tools.
Ranging from plant species endemic to South Africa, to types of fynbos that only occur on certain parts of a specific mountain, we were continually enthralled by the complex magic that makes up this landscape.
The term "slackpacking" often conjures up ideas of gentle strolls that require little to no effort – not so with the Green Mountain Trail. It is a proper hike in the mountains with decent inclines and declines, rough terrain underfoot at times and all the mountaintop rewards that come with the effort of a good hike. Distances aren't trivial either, with the longer days ranging from 18-23km. The main benefit is that you don't have to carry a heavy backpack.
Two of the participants in our group have been hiking for most of their lives, but due to old injuries they are unable to have any loadbearing on their shoulders or backs – the Green Mountain Trail offers a proper multi-day, mountain hiking experience, in a pristine landscape without the burden of a heavy backpack. The guides carry coffee and snacks and all that's left for the hikers to carry are a few warm layers, water and a light, packed lunch – luxury!
Speaking of layers, do not underestimate the weather conditions either. As this is a mountain hike, the varied and rapidly changing weather conditions of mountains are part of the package. We experienced everything from blue skies and balmy afternoons to strong, cold wind, clouds and low visibility.
Owing to the massive diversity of plant life in this area, it is also home to a wide variety of interesting and beautiful insects, birds, lizards, antelope and wild cats. Although we did not see any leopard or caracal, there was regular evidence of their presence on the trail, as well as klipspringer and duiker spoor. In addition to the lovely sugarbirds and sunbirds, we also spotted a pair of African harrier hawk gliding on the thermals, but the highlight must have been our encounter with the Cape dwarf chameleon – its stunning display of camouflage and methodical movement had us all mesmerized.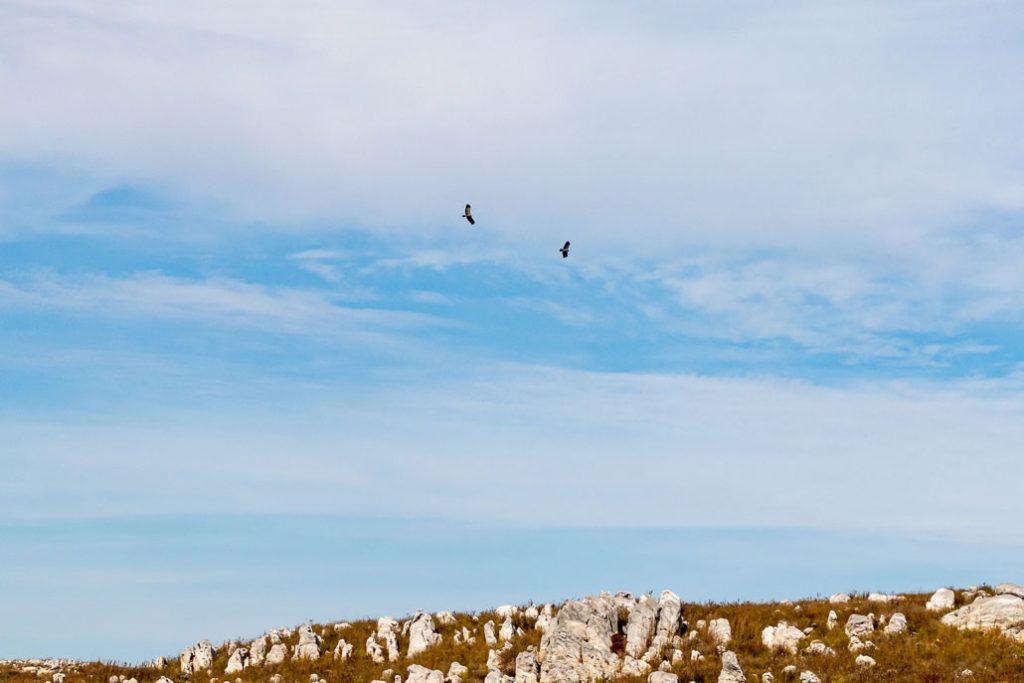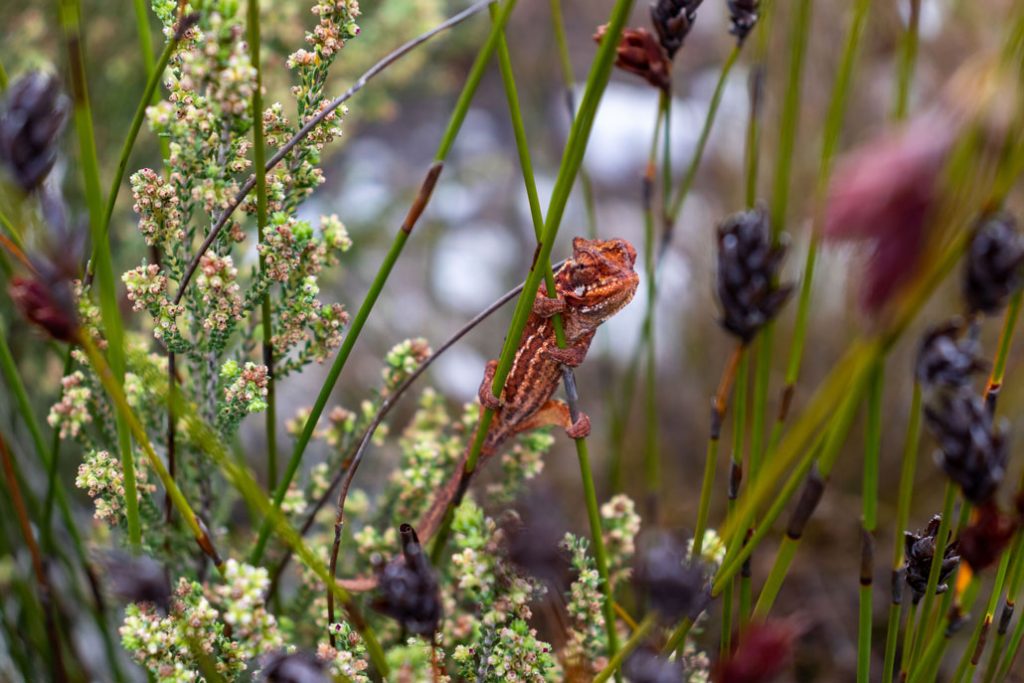 Source: hikingsouthafrica.co.za
Written by: Arno van der Heever