While keeping fit and healthy is something we all aspire to, staying in shape can be tiresome, especially when it solely involves lifting weights or aimless treadmilling in a gym environment. Sometimes, what's required to stay motivated is a workout routine that mixes things up a little, that injects a bit of fun and frivolity into the serious task of keeping the body beach-ready.
Fortunately for fitness enthusiasts (or even those just vaguely inclined to break a sweat in an interesting way), the Mother City claims its fair share of unconventional but enjoyable exercise forms bound to take the effort out of exertion. So, to help you find such original alternatives, what follows is an overview of various unusual ways to work out in Cape Town, from off-beat outdoor sports to those quirky activities more confined to structured studio sessions.
RESET YOUR LIFE
If you want to improve your mental health, physical prowess, and overall health and immune system, look no further. This workshop has been tried and tested across the world and has garnered impressive results. Led by Alex Vliege and Viktor van der Kleij, you'll learn things such as breathing, yoga, meditation, and ice therapy. Bring down stress and anxiety, optimise your fitness, and give yourself a "northern lights" high with the Wim Hof Method.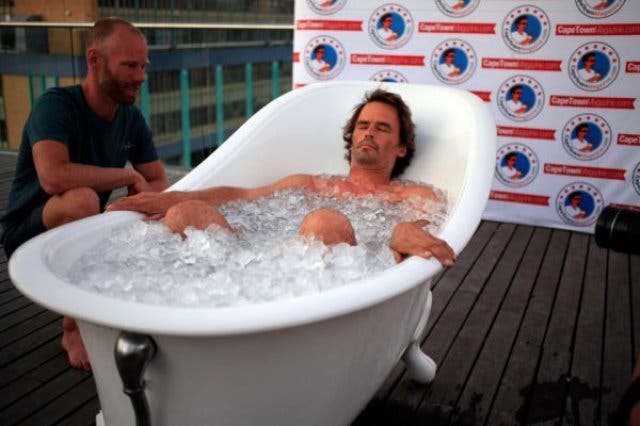 Inner City Ideas Cartel | 113 Loop Street City Bowl | alex@high-five.co.za
NOT YOUR AVERAGE GYM
At Functional Performance Lab, they provide supervised tailored workouts using their unconventional, but effective training methods to help you achieve your fitness goals. Unlike your average gym, they view the body as an integrated unit, where different parts of the body need to work together in order to function correctly. Their goal is not only to make you perform and look better, but to improve your health, make you feel better, move better and remain pain-free in the long run. Whether you're a professional athlete, want to improve your fitness, or want to get rid of your daily niggles, you'll be in good hands at Functional Performance Lab.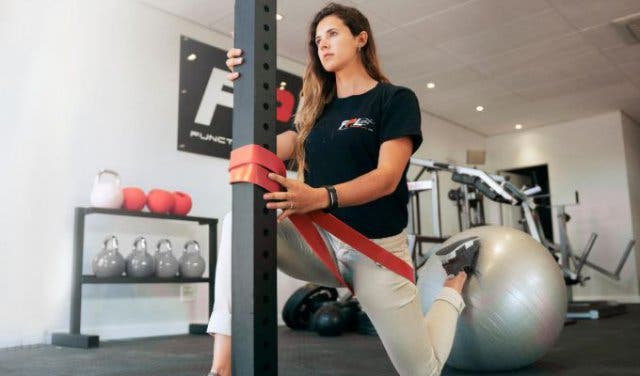 Portswood Square | V&A Waterfront | +27 (0)79 133 4703 | info@functionalperformancelab.co.za
OUTDOOR YOGA CLASSES WITH THE OM REVOLUTION
Although yoga isn't a new fitness trend, the concept of taking yoga outside the studio is a unique way to get a workout for your body and mind and enjoy the best scenery the Mother City has to offer. The Om Revolution is Cape Town's first mobile yoga service and their mission is to make yoga more accessible to everyone. Yogis of all fitness levels – including newbies – are invited to join in the weekly 60-minute public yoga classes that run from late October to April every year during the week and on the weekend in mornings and afternoons.  All the more reason to kickstart your health in the new year! Classes are held in beautiful locations in and around Cape Town including the Company's Garden, Century City, Clifton and Mouille Point. It's a good idea to arrive 15 minutes early to sign in and pay, grab your spot and chill out before the class starts. Find out about more and read about The Om Revolution and their weekly schedule.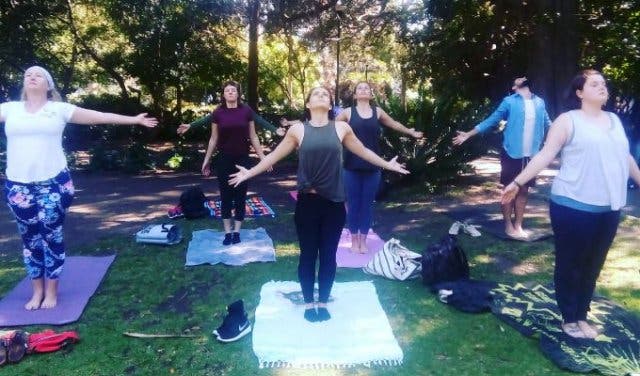 Various locations in Cape Town, +27 (81) 077 3183, namaste@theomrevolution.co.za  
WIRELESS ELECTRO-MUSCLE STIMULATION (EMS) TRAINING
Ditch the two-hour gym session for a 20-minute compact circuit using this groundbreaking fitness innovation. For the first time in Africa fitness geeks can push themselves harder than they've ever done before with this revolutionary AQ80 system. How it works: For R250 per 20-minute session, strap into a durable suit and receive, via radio frequency, low-to-medium pulses of electric currents, emitted to produce muscle contractions throughout your entire body, as you train. The flexible suits have a 5km range so you can go on a run, hike up a mountain, or do the downward-facing dog with ease and full mobility. Some of you gym bunnies and yogis might be sceptical about how effective a 20-minute session can really be. Well Candace Kentridge-Britton and her husband, Damien Britton, over at ElectroFitness would be happy to prove you wrong. A word to the wise; don't plan any strenuous activities for the next day (possibly the day after that too) as you'll definitely be feeling workout on your body. In a couple of weeks, however, you'll notice the difference in your weight, posture, fitness level and recovery time.
KAYAKING
Kayaking offers an excellent low-impact upper body workout. As Western Cape residents we are lucky to be smack in the middle of prime paddling territory. Whether you choose to raise your heart rate by conquering the fast-flowing rapids of the Berg and Breede rivers, or take it easy on the smooth, glassy surfaces of the Indian and Atlantic Oceans, the on-the-water athletic activity will improve your cardiovascular health and strengthen a few of your body's major muscles. As hinted at above, your arms, shoulders, and back will benefit most obviously, but kayaking also demands that you use your hips, legs and core to balance and direct the vessel, so you'll also build some definition in your abdomen and lower body. Apart from the physical advantages, fitness and good form come with a few feel-good factors. For one, paddling provides an opportunity to see our region's scenic surrounds from a whole new perspective, and it treats enthusiasts to some of life's simple but most glorious pleasures, like watching the sun rise over the water and being super close to the exquisite marine life.  What's even better is that nearly anyone can take up the sport as no experience is needed to start. Kayaking is a truly accessible activity – and the price of kayak rentals is genuinely affordable.
TAI CHI
An especially calm, controlled and accessible fitness form, this ancient Chinese martial art employs a series of slow, precise movements that progress through a range of postures to improve energy flow, cultivate consciousness and concentration and foster a mind-body connection. While the various health benefits of Tai Chi are well documented – it has been found to clinically improve functioning in individuals suffering from a range of conditions, including hypertension, high cholesterol, rheumatism, arthritis and Parkinson's disease – the relaxed technique also works to enhance overall strength, balance and agility and serves as a low-impact form of physical exercise. In this way, although the gentle practice – which can be done anywhere and at any time – is ideal for the elderly or ill, it is also a viable option for anyone of any age or predisposition seeking an effective health and fitness regime that doesn't rely on excess physicality.
Tai Chi Studios in Cape Town: International Kim Loong Wushu Center, Jing-An: The Asian Wellness Experience.
BOXING
Although often assumed to be a practice reserved only for macho men and violent ruffians, this high-energy combat sport – and the range of intense, high repetition routines it employs – is, in fact, a highly feasible and efficient exercise form for the regular layman or woman (regardless of age or background). While full-contact fights and sparring are optional at most clubs, training also focuses on simply using boxing applications, such as skipping, glove work and punching bags, to provide an effective full-body cardio workout and improve muscle strength, stamina, speed, flexibility, coordination and power. What's more, this strategic sport also works to enhance concentration and reaction time, boost self-confidence and offer a powerful outlet for pent-up stress and frustration. This age-old practice is, therefore, perfect for those looking to lose weight, improve overall fitness and let off some steam, while also developing a challenging self-defence craft. Not to mention, as sessions are generally short and intensive, boxing is also especially ideal for urban professionals that are pressed for time.
Boxing Establishments in Cape Town: The Armoury Boxing Club, East City Boxing, Pound for Pound Boxing Gym, Brice's Boxing Academy, Mustang Boxing Academy.
LAUGHTER YOGA
The brainchild of Indian physician Dr. Madan Kataria, this somewhat alternative exercise form – which relies on the belief that laughter truly is the best medicine – combines a series of spontaneous (often childlike) activities designed to encourage forced giggles and glee with deep breathing and meditation (the yoga components). A core philosophy underlying this seemingly odd group-based practice is that laughter, regardless of whether it's real or fake, triggered by humour or not, affords a variety of mental, physiological and health benefits. That is, apart from its ability to lift moods and promote relaxation and positivity, a good laughing session also reduces stress levels, strengthens the immune system, lowers blood pressure and, importantly, stimulates the core area; in essence, it offers a powerful workout for both mind and body. While the slightly eccentric quality of laughter yoga may not appeal to everyone – and may make it feel somewhat more suitable for the inherently silly – its advantages as a fun, unconventional fitness form for adults are certainly far-reaching.
Laughter Yoga Studios in Cape Town: Tibetan Buddhist Meditation Centre, Ananda Sanga.

ROCK CLIMBING
As challenging as it is exhilarating, this adrenaline-fuelled activity typically involves the use of ropes and harnesses to navigate routes up or across either steep natural rock structures or vertical manmade walls. Owing to its physically demanding nature (and the fact that it requires a good deal of stretching, hoisting and careful manoeuvring), rock climbing enhances flexibility and balance, increases muscles tone and strength in the arms, back and legs, burns calories and improves cardiovascular health. On a more psychological level, as the fitness practice depends on sustained focus, it also works to develop concentration and mental sharpness, and ultimately helps individuals become almost meditative, offering calming and stress relieving benefits. While there are various indoor venues dedicated to this daring sport, Cape Town and its diverse, mountainous terrain also boasts a large number of scenic outdoor options, making this activity a great alternative for those eager to exercise out in nature.
Rock Climbing Locations in Cape Town: HangTime Gym, Lakeside Pinnacle, Silvermine Nature Reserve, Table Mountain, Lions Head.
HULA HOOPING
No, this playful art is not reserved only for little girls in pigtails; on the contrary, it's successfully hooped in a sizeable number of very grown-up women –and men, for that matter – in Cape Town as a unique and entertaining way to tone and tighten up. More complex than it seems, when done properly, this rhythmic exercise form recruits a range of techniques, tricks, spins and swirls (hooping in both directions, while walking, while dancing to music, with hands up in the air, for example) and involves a variety of different body parts. The low-impact cardio workout it affords thus serves to build core strength, stimulate many small muscles in the lower back, arms, thighs and abs, activate joints, aid with weight loss and enhance body awareness. Not to mention, as it's a creative and colourful activity, it also goes some way to lifting mood and improving self-esteem. In essence, hooping is about finding expression for our inner child while enhancing fitness and reaping a number of rewards. Perhaps one of its strongest drawcards, though, is that it's a highly accessible and inexpensive exercise form and can be done almost anywhere – outdoors or indoors, alone at home while watching television or, more formally, within a large group class.
Hula Hooping Classes in Cape Town: Roundly Hoops (run workshops once a month), Arise and Hoop.
ROLLER DERBY
Started in America in the 1930s, this high-energy, fast-paced, female-dominated contact sport, which has become a popular activity worldwide, is now slowly taking hold on South African soil. In its typical form, roller derby sees two competitive teams of players (generally relatively alternative, saucy-looking women) scream around a flat circuit track on roller skates in an attempt to score points and block (through some pretty forceful tactics) the opposing squad from doing the same. Of course, as a high-speed, intensely physical sport, this all-girl game certainly spikes heart rates, burns fat, provides a feel-good rush and improves the general tone, strength and well-being of the whole body. And participants are generally so engrossed in play that such rewards are reaped without it even really feeling like exercise. While at this stage there is only one team in the Mother City Mayhem Cape Town league – a group that calls themselves the Cape Town Roller Girls – this is an athletic alternative that is just begging for further growth and involvement.
Note: Mother City Mayhem welcomes anyone to join their twice-weekly practices for a small monthly membership fee.
POLE DANCING
Although this particular pastime may carry a sultry, somewhat sordid stripper-type stigma, it is, in fact, being employed by a growing number of ordinary Capetonian women – even those from conservative backgrounds – as an enjoyable way to develop a supremely firm physique (indeed, the dance form has become so well recognised as a powerful exercise regime that an official Pole Fitness Association of South Africa has been established). The host of dynamic and demanding moves, spins, transitions and tricks that the athletic art involves – many of which require dancers to shift and hold their entire body weight – activate all muscle groups, particularly the core area, and enhance strength, balance and agility. What's more, the type of workout it affords helps to develop a lean, toned figure as opposed to bulky muscle mass, which is preferable for most women. While not tasteless, the various twirls are inherently 'sexy', and therefore leave ladies feeling feminine and empowered; pole dancing is thus as instrumental in developing a healthy body as it is a healthy body image.
Pole Dancing Studios in Cape Town: Pole Dance Cape Town (a franchise of BodyMind Studios), Dance4Fitness.
FENCING
This, elegant, tactical sword-fighting art, which serves as an outlet for all those with Peter Pan-type aspirations, has been around since medieval times and has garnered popularity as a practice that is accessible to individuals of all ages and predispositions. As thrusting and defending with bladed weapons requires both speed, strength and a good deal of strategy, fencing is deemed a psycho-physical sport in that it works to keep both the body and brain fit. On a physiological level, the calculated movements offer an intense well-balanced workout and improve coordination, balance and suppleness. Then, as the art forces fighters to solve numerous technical challenges on the spot, it also cultivates a level of mental sharpness similar to that required in chess. In this way, it offers a somewhat off-beat method of developing multiple important capacities. While some may be put off by the notion of sharp swords spinning through the air, unlike some other contact sports, fencing is, in fact, entirely safe and employs a number of protective measures to ensure this. Though this exercise alternative is suitable for anyone, its one-on-one nature may appeal more to those who prefer individual over team activities.
Fencing Establishments in Cape Town: The Cape Fencing Academy, Blues Fencing Club (for individuals over 20 years of age).
SURFING
Though engaged in by most purely for its serious fun factor, this invigorating recreational sport, in fact, carries a whole host of real fitness benefits too. As it involves just as much (if not significantly more) paddling and treading water as it does actual standing board work, surfing serves as a powerful cardio workout and acts to strengthen and tone both upper and lower body regions, including back, shoulder, leg and abdominal muscles. Not to mention, as committed boardies typically spend hours at a time moving about to stay afloat and catch waves out in the big, unpredictable blue, the activity also works to improve general staying power and balance. But this sport goes some way to enhancing mental fitness too; most who've given it a try vouch for its unparalleled ability to uplift and energise, to reduce stress and to induce a calming, almost meditative state. As a low-resistance activity, it's an appropriate exercise form for a broad range of ages and dispositions (not just for your classic surfer dudes), and as a truly addictive pastime, it makes staying in shape both easy and enjoyable.
Surfing Schools in Cape Town: Gary's Surf School, Learn 2 Surf, Roxy Surf School, Stoked School of Surf.
BOOT CAMP
While this particular group fitness form may sound a little too intense and intimidating to some, organisers tend to emphasise that boot camp – which typically takes the form of a short-term structured programme that draws on elements from military physical training– is a highly effective exercise alternative for anyone, regardless of shape, size, ability or fitness level. With a focus on working participants in a similar intensive way to that in which new recruits in the army might be (albeit in a far more accepting and less brutal manner), this fitness approach makes use of minimal equipment and incorporates both individual and team activities, such as short-distance running, obstacle course navigation, military-style drills, jumping jacks, lunges, press-ups, sit-ups and squats. Although the focus differs from camp to camp, many also incorporate personally-tailored nutritional advice and eating plans to supplement the physical exercises. The overall intention is to steadily improve strength, endurance, muscle tone (especially in the thighs, buttocks and abs), physique, self-confidence and general well-being, and to motivate and inspire trainees to work towards set goals and to push themselves a little further each session while still recognising and respecting reasonable limits.
Source: capetownmagazine.com